What is a Dram?
Why exactly did we name our place 'The Dram Shop' you may be wondering? Well, it's sort of a long story, so here goes. First off, we love the term. Second, our business happens to be located in the Historic Missoula Mercantile Warehouse Building, and we like to think that sets us up within a unique historical perspective. And it turns out the history of the term 'dram' is rich.
Missoula Mercantile Warehouse. Photos taken between 1900-1910.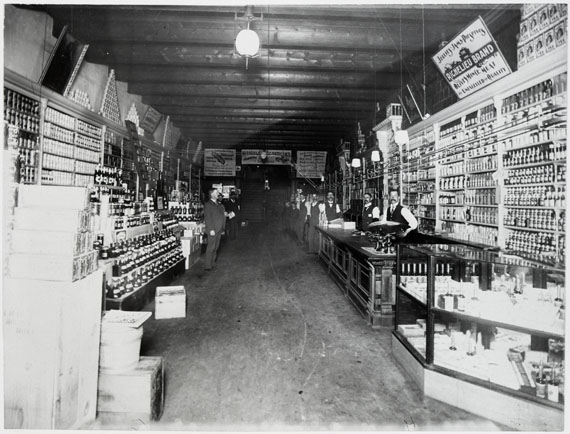 Here's what you need to know in order to wow your friends at the next BBQ:
From its origin, a 'dram' refers to a unit of measurement. Most folks who are familiar with the term relate it to its more recent Celtic application, referring to a 'thimble full', usually of liquor. But more accurately, the term was used in the modern apothecaries system until the mid-20th century, even here in the U.S., defined as exactly 1/8th of an ounce.
If you follow the term further into the past however, you find that it dates back to the term 'drachma' in ancient Greece. It was used for both a measure of weight and the name for a coin. Often times, it was used to mean a "handful', as a unit of measurement. Now that's an awesome measurement, and don't think we haven't thought about it!
But back to our story… Romans subsequently used the term 'dram' for a unit of measurement, and also as a noun for currency. This usage was followed by the Ottoman Empire, and then the Celts. It's still used today in several Middle Eastern nations, as well as in Armenia as the name of its modern currency, the Drachma.
It's a long history we know. But, we think it's a great fit. We're selling beverages that are enjoyed by many people from all over the world, and we're selling them in specific units of measurement, right here on historic Front Street.
So the next time somebody asks you; "What's a Dram anyway?" you'll have something to talk about.

Selection of new glassware and growlers … Get yours now!
NOW OPEN —> Sign-up for our newsletter and stay in touch!